ENJOY THE DRIVE
There are more than 97,000 miles of Nebraska roads, highways and bridges that allow communities, big and small, to prosper. They help customers reach businesses and lead commuters to work. They take fans to Husker games, kids to schools and families to outdoor adventures. When our roads are in good condition, safety is improved for everyone.
in state gas tax per day, per driver. That's all we pay. And every cent goes to road improvements.
construction projects are scheduled throughout the 8 districts in Nebraska in 2019.
county bridges still need improvements, and we need funding to get the work done.
The state of our fuel tax = the state of our roads.
We rank 28th lowest on fuel tax out of all 50 states.
Every cent from the gas tax generates $12 million for road repairs.

Each dollar spent on road, highway and bridge improvements:
Reduces vehicle maintenance
Reduces delays
Reduces fuel consumption
Reduces fatalities
Reduces emissions
Reduces road and bridge maintenance costs
Reduces traffic
Myth:
Price changes at the pump are due to gas tax.
Fact:
The cost of gas rises and falls, but it has no effect on the amount of tax you pay.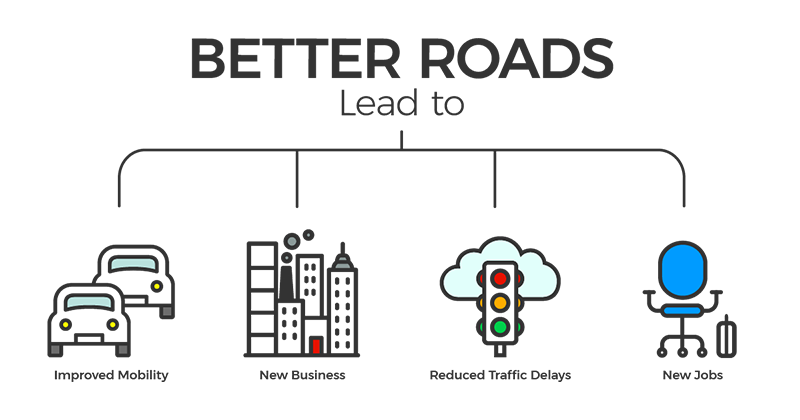 Improving our roads and bridges boosts the economy and creates a constant stream of jobs in the market. Learn more about these lucrative and plentiful careers.
The Reason Foundation rates NE state highways fourth best in the nation. Learn Why
See the 2019 construction project Program Book
Learn more about the Transportation Innovation Act.
Better Roads NE is an effort by AGC Nebraska Chapter and concerned Nebraska citizens to ensure the integrity, safety and conditions of our roads. Our highways, byways and bridges connect us to our family, friends, schools, churches, jobs and other people and places we deem important. They allow communities, big and small, to grow and prosper. By putting in the necessary work to keep our roads in the best shape possible, we can confidently allow them to lead us to where we want to go.